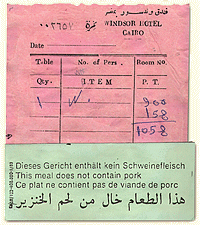 Today goes down in my personal history as the day I (first) saw the pyramids, a dream that goes back to the age of twelve. And also as one of the most frantic.
In the morning we checked out of the Pharoah's Rip-Off, with our passports registered by the government via the hotel (required), and at the door "you want a taxi?" We got Muhammad (surprise!); a relatively nice guy but a lifetime of ripping off tourists is ingrained in a guy. After trying to get us to another hotel we got to the Windsor, a wonderful place aptly described by Let's Go as having an 'atmosphere of faded glory'. An old British Colonial place complete with old lift, bar … well, early 20th century feel to everything, quite clean and cool. Perfect for Cairo.
We just dumped our bags though because Muhammad had convinced us to get our train ticket to Luxor. Misunderstanding though as we were taken right across town and halfway to the pyramids to a grotty travel agent – he thought we wanted the whole package. Misunderstanding solved with much apologising from Muhammad, who took us back across town to get our one-way train ticket.
How can I describe sitting in the back of a taxi driving through Cairo? Impossible (mish mumkin!!), but this city is without a doubt the most crowded, noisy, polluted, frantic, filthy conglomeration of human beings I've ever see. Every glance is memorable. Not to mention being on the edge of death continually in insane traffic. Egyptian drivers have to honk their horn every few seconds for religious reasons, surely. Every journey seems to take forever as the taxi squeezes its way through buses and other cars, and dodges stunt pedestrians.
Back to the Windsor Hotel. Muhammad made one last effort to be our permanent guide, offering to pick us up in the morning, but we finally got rid of him at the hotel, for the crazy total price of 27 ep. Nice enough guy though at least.
Into the civilised crumbling colonialism of the Windsor, where we had a beer in the large bar room, served by an Egyptian in a white kaftan, and settled back to smoke cigarettes and read the Egyptian gazette. Life is tough. Our room is large with bathroom, air conditioning and just-functioning TV. The beds are large and comfortable. Old black phone and double glass-panelled door.
After a short rest in the room we decided to hit the pyramids for late afternoon/evening. Let's Go told us a decent rate for a taxi was 4 EP, but we tried quite a few taxis and the one we got in the end was 8 EP. The range was 5 to 20. Another wild ride through the streets, dropping off and picking up passengers on the way, the driver playing Arabic music, Abba's 'Rock Me' and Bobby Brown on the car stereo, I also had an Egyptian cigarette he offered me.
Suddenly on my left the pyramid of Kephren/Khafre appeared, almost blotting out the sky. We drove up to the toll booth, where the city ended and the desert and the pyramids began, and were passed into the skilled hands of the next shyster. After much hassling this guy persuaded us to take a horse and camel ride around the pyramids. Well, how often do you get to do something like this? The whole trip ended up costing a lot more than advertised of course. These guys are professional.
But what an evening. We set off, C on horseback, me on camel, two guys leading us on donkey and horse. Oh yes, the camel was Michael Jackson and the horse was Madonna.
Still, an unforgettable experience, on the back of a camel riding around the pyramids. They are huge, inscrutable; despite the tourist crap and the hype and the studies they're not saying anything to anyone – their size and mass gives them a timeless pride.
We rode past the pyramids of Cheops/Khufu and Kephren/Khafre, and close by the smaller one of Mykerinus/Menkaure, occasionally stopping to take photos on the way. Then further around and up a dune for the well-worn but still unbelievable view of all the pyramids grouped together. A scene I've seen many times in books but breathtaking in person. Not that I had enough time to be amazed because our guide was organising photo shoots faster than you can say 'cliche'. On camel, off camel, on donkey, with cane – and another guy (more baksheesh) got into the act – with bedouin head scarf, on camel sitting – you get the picture (excuse pun). I felt like a dumb tourist but the pictures will be fun.
We rode on, this time with me on horseback, to the Sphinx, dusk closing in. At one point the horse broke into a canter and I got the rhythm right, but most of the time I was bouncing badly. The Sphinx was a dark, fenced-off silouette – a closer study must wait.
It was a slightly bizarre, nervous ride back through the slums that crowd the last fence before the desert. In the dark we both rode our horses past squalid hovels full of families. The people seemed happy, but the poverty was incredible. As we rode on and the area became more and more isolated I started to get nervous, and (in hindsight melodramatically) slipped my Swiss Army knife from my bag to my top pocket. At one point, along a dark alleyway, camel silouettes came towards us and my guide started whistling, and instantly ideas of secret signals to pre-planned muggers came to mind. I started to wonder what I would do in such a situation, and no answer came to mind. I feel like an idiot about it now, but it was only our first day in Egypt, and we were strangers in a strange land.
Anyway we made it back, and after much blah blah blah from both sides said farewell with 10 ep to each guide. The boss instantly grabbed the money from them.
The taxis swarmed in, but we walked back along Giza Road for a while, unitl the guide showed up again and got us a taxi for 10 EP. Prices vary continually. Love the hotel. Completely exhausted but elated. I've seen the Colosseum, the Parthenon and the Pyramids, and I'm just 25. I really feel like I'm travelling now.