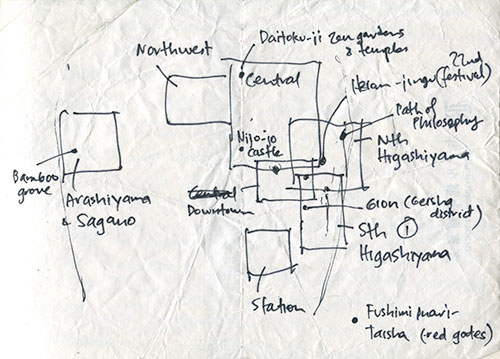 An early start got us to the station to catch the 8:05am to Kyoto (which we booked yesterday), with, for a change, no transfers en route. We grabbed toast and coffee from a station cafe. An easy trip of a couple of hours, during which I swotted up on Kyoto in Lonely Planet Japan on my iPhone.
We arrived in Kyoto and with no difficulty whatsoever bought two-day bus and subway passes from a vending machine, caught a subway train a couple of stops, and walked a few blocks to our MyStays hotel on Sanjo-dori. We're basically right in the middle of downtown Kyoto.
After checking in our bags, we walked further down the city street – dodging pavement cyclists, who were everywhere – and after a little bit of confusion found a bus direct to Arashiyama in the east of the city; about a 20 minute journey.
When we got there it was very busy – tourists (mostly Japanese) cramming the pavements along a wide river. We walked for a bit and stumbled across a good restaurant. After a five minute wait we got a table (on the side of the room where you took off your shoes and sat at a low table) as people were lining up outside. Always good to go to the places packed with locals. The food was fantastic and we really enjoyed the meal: we both had tempura and cold soba noodles, with very tasty rice. Carol had a warm sake and I had a beer. All Carol had to do was to give me her two shrimp tempura to make her meal vegetarian, and I wasn't complaining!
Onwards down the road, past shops, and a turn off took us to the famous Arashiyama bamboo grove. The tall bamboo stalks were indeed beautiful, but the path was absolutely packed with camera-wielding tourists – so much so that it was more of an exercise in people-watching than experiencing the peace of the grove. It was a place that promised the most beautiful photos, but was so difficult to capture on film; though that didn't stop a young couple in their own glamorous photo shoot trying; the woman waving her long red dress about in classic Hollywood style.
At the end of several lanes, we came across Okochi Sanso, the estate of Okochi Denjiro, a silent film era actor. A very picturesque stroll through the garden, with views over the ugly suburban sprawl of Kyoto, an advertising blimp hanging in the air, distant against the surrounding green hills. We skipped the free green tea and continued to the gardens of Tenryu-ji, but a bit of temple fatigue had set in by this point; understandable given the hordes of picture-snapping tourists. So we called it a day and caught the train back to downtown, grabbed some drinks and some food and checked into our room.
We were going to head out for a drink, but planning our four days in Kyoto tool the rest of the evening. I nipped out and got sushi from a nearby supermarket, and Carol got salad. After a surprising amount of reading, Googling (renting a mobile wi-fi unit was definitely an excellent decision), and discussion, we worked out how we were going to spend the time. Lots to see and do, and possibly two festivals on Saturday – it's going to be a busy few days.
I just love Japan though: even the simplest transactions at a supermarket are great fun when people react to my few words of Japanese in such a friendly way.