One of the wonderful things about travelling is that you can pack so much into a day. We've only been in Tokyo two days, and I already I feel like we've done enough to fill weeks.
Another early start – up at 6am and out at just past 7am – and after first walking to the Imperial Palace gardens and finding they were still closed, we walked back to Tokyo station and got on the subway, changing at at Kokkai-gijidomae and emerging at Meji-jungumae and the Harajuku neighbourhood. We're already starting to feel comfortable on the well-signposted, organised and very clean subway system. We absolutely love the PASMO travel cards we purchased before the trip and had mailed to us, which allow us to sail through every ticket barrier. They're easily updated with more cash at station vending machines.
We walked down Omotesando, a street of boutique and label fashion stores, looking for a place to eat, but they don't tend to open early so we had to settle for a small cafe called 'Italian Tomato', where a grumpy, harassed woman sold us bad coffee and muffins. Thus fortified, we headed into the nearby park and towards Meji Jingu, a large Shinto shrine (like so many Tokyo landmarks, destroyed by WWII air raids and rebuilt in 1958 – that must have been a very busy year). A huge wooden torii gate made from 1,500 year old cypress marked the entrance. A lovely quiet, wide walking path through a forest lead us to the shrine, and although some construction and renovating work was going on, it was an atmospheric place.
Back to the main street, we found and walked up Takeshita-dori, a narrow pedestrian alleyway crammed with trendy teen clothing shops, crepe stores with windows full of plastic sweet treats, and lots of pink everything … we stopped at a cafe and Carol had a toast and egg breakfast and I had a sickly sweet waffle, honey, cinnamon and ice-cream plate whilst we watched the people go by.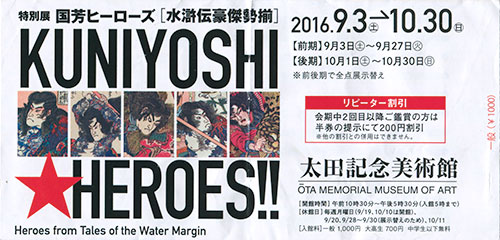 Our next stop, at its 10.30am opening time, was the Ota Memorial Museum of Art. Carol was particularly keen to visit this small gallery in a side street to see its collection of ukiyo-e (woodblock prints), and it didn't disappoint. An exhibition called 'Kuniyoshi Heroes!!' was on, featuring incredibly colourful and vibrant woodblock prints from the 19th century, illustrating a saga of heroes and monsters called Tales from the Water Margin. We bought some printed tenugui (small cotton towels) from the gallery store.
Back to the subway, we made our way to Kagurazaka, a bit of a foodie suburb that was once a geisha district. It took us a while to find the few remaining cobblestone alleys, and they were not quite as atmospheric as expected, but it was an interesting area that is probably gorgeous by night and a great place to find a good restaurant. We settled for a small sushi train place, but the vegetarian options for Carol were very limited – especially when the only egg sushi we grabbed she dropped on the floor! – and she mainly had to settle for rice from my sushi. Still, it was her first taste of sake, albeit the pretty cheap and nasty variety.
Next we headed back to Ueno station, and walked to Tokyo National Museum again, which we definitely knew was open this time! We spent a couple of hours there, seeing everything in the Honkan (main gallery) – early pottery, painted screens and wall hangings, calligraphy, textiles, and – most interesting for me – armour and swords. Then we checked out the Gallery of Horyu-ji Treasures, which featured a room full of 7th century gilt Buddhas, among other objects.
By this time we'd been walking about 10 hours and were almost dead on our feet. We navigated our way back through the crowded subway to Tokyo station and our excellent little hotel, and after a brief rest, at 7pm had an excellent dinner at the hotel restaurant (a floor above our room on the 15th). Here we had tempura, sashimi (including my first taste of sea urchin, which was pretty good), tofu in dashi broth; washed down with wine and beer. At last, a proper Japanese meal together, and a chance to stop and realise that we're in the middle of Tokyo having dinner!
A huge day. We're off into the countryside tomorrow, but I'm very glad we'll have more time to explore Tokyo further at the end of our trip.