Breakfast of tea, bread and an egg and we were on the street by about 8.30am. First job was to go the station to get our Cairo tickets, which was easily done with a bit of help from the smiling tourist office attendant – "at your service". The ticket man painstakingly filled in the triplicate ticket receipt, hovering painfully over the English numeral writing. 63 EP for the two of us. That done we went for a walk down to the Nile, shrugging off offers of carriage rides, taxis and marijuana. We stopped at a stall and C bought a shirt while I bought a full length Egyptian smock – bargained him down from 60 to 28 EP. Slowly I'm getting the hang of relating to the Egyptians more – the secret is smiling and laughing a lot and treating them with respect. If you both know a price is fair then everyone's happy.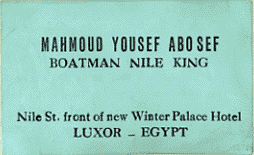 We strolled through some shops, visited the American Express office, walked along the riverfront. Feluccas (riverboats) lined the shore, and I chatted to one guy about a price to hire and said "la, shokran" to a few others. Hot, sunny day; the river is wide with green field and palm trees on the opposite side and brown cliffs towering in the distance. On this side the ruins of the Temple of Luxor stand – hopefully explore those tomorrow. We decided to hire a felucca for a few hours – walked along the shore, picked a boat, but the owner was awaiting some passengers and passed us on to another boat, the Nile King, and Mahmoud. Mahmoud turned out to be a friendly guy and after a bit of banter we got the price down a bit to 30 EP for a trip to Banana Island (Gezira el-Mozh) and back. A motorboat towed us and another boat to the island (no wind!). The Nile King was a comfortable boat, blue and white deck and seats on the starboard and port sides backed with bright cushions. Mahmoud's son Yousef brewed up tea as we chatted and shared cigarettes. Wonderful view of Luxor temple and the boats as we headed upstream. Near Banana Island (actually a peninsula), about half an hour later, the motorboat and its fumes left us and we drifted to the shore.
Yousef took over (now I think about it, poor old 10-12 year old Yousef did most of the work – rowing, brewing tea, guiding, while Mahmoud leaned on the rudder, smoked and chatted with us!), and led us along the well-worn trail past the Egyptian versions of tourist traps. First it was a 2 EP each fee to a guy just inland, then to a collection of rough shelters where we directed to sit down and "eat bananas'. This is what all the tourists do on Banana Island, it seems. We had a coke, and another guy grabbed me to watch him cut green bananas from a stalk. "Photo?" "No, I just look" "Photo?"
Well, C did take some photos and I'm glad she did – though it was a bit of baksheesh all round, even to the old guy who just sat there and chuckled. Despite the whole 'business' I try to relate to the people a bit more than the average tourist. On Yousef led us, past some guys collecting oranges and to the other side of the peninsula, where we sat for a while in the sun and watched the Nile, the green fields, and the rafts of vegetation floating slowly down the river.
After a while we headed back. At the 'orange checkpoint' we said a few words to the men there – one asked for cigarette and the next thing I was handing out three – I refused a kid one though! Good natured gestures and laughing – but at us or with us??! Strolled back to the boat. We then spent an hour or so slowly drifting back down the Nile to the dock. At one point Yousef was rowing and I took over for a bit – quick chorus of Swing Low Sweet Chariot. Bloody hot work though and I was soon in the far more relaxing position of lying full length on a seat, shirt open, hat over face. Tough life.
Just as we left the island Mahmoud showed us the souvenirs he made at his house – but we were getting along pretty well by then and he didn't do the hard sell; in fact he gave us a small mummy figure each. C bought a couple of scarabs. Back at the dock we said our farewells – I had Mahmoud's card and promised to see him next time I was in Egypt (!). Nice guy and good to have a bit of a chat to an Egyptian about something other than money.
We saw the guy who had recommended him to us and I went over and thanked him; he was fuming as the tourists he'd been waiting for hadn't shown up. He had a rant and we all (another Egyptian and a tourist) reflected on how "there's good and bad people in the world", rude tourists and shyster Egyptians. We parted with handshakes all round. For once I'm getting to know a different culture and its people a bit; I'm really enjoying fitting in as much as possible – acting like a 'visitor' rather than a 'tourist'. All the other tourists I see here look dumb to me – shorts and T-shirts and 'Egypt' hats – no respect for the culture.
After a drink back at that shady porch, we went for a long walk through the market streets. Touristy at first but as we went on things got less and less so until we were walking through what was more like a village. As the tourist junk decreased, the streets got filthier and the people got friendlier, especially packs of dirty kids with big smiles saying "hello, hello, hello."
This was one of the most fascinating times of my trip so far. People were curious but not rude, but the poverty was incredible. Piles of rotting refuse buzzing with flies were in the middle of the muddy street; battered, scrawny donkeys waited by the walls; haunches of meat hung in a couple of doorways, also covered in flies. Most kids were happy to practice their "hellos" but a few had learnt "hello baksheesh", and one kid wouldn't give up and followed us for ages (To C: "madam … baksheesh?") until called off by an adult.
As we turned back and started heading back to the main hub of Luxor things changed back to 'tourist Egyptian'; and I reflected on how much damage tourism can do to a culture and its people. An unforgettable afternoon. I bought a pair of pants for 10 EP at a stall, C bought a few other things. We had dinner sitting outside at Restaurant Limpy, near the station (kebab, salad, bread, rice, a few Cokes) and back to the hotel for an early night. Big day tomorrow, up at 5am. God I'm enjoying myself.