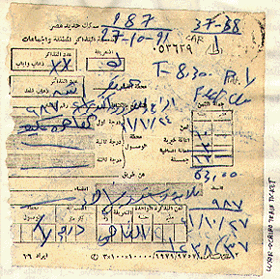 Another pretty early morning, in time to see Karnak Temple before the train left for Cairo at 8.30am. After breakfast we caught a horse-drawn carriage to the temple, driven by a little shit of a kid who whipped the poor scrawny horse too much.
Arrived at Karnak, about 3km north of Luxor, about 7am. Not many people around – except that is for extortionist Egyptian 'guides', two of whom dragged us to photo opportunities (one was OK – up through the inside of a pylon). The other took us to a room and then went though an inane ritual with each of us touvhing a block of stone ("good luck"). Then baksheesh of course, what a racket – and they have the gall to complain when you only give them 25-50 pt! Anyway, the temple was interesting though not as impressive as I expected – much of it is in ruins, though the ruins cover a huge area.
We zipped through in an hour, then got the same carriage back to Luxor. The kid had the hide to demand 7 pounds instead of the 6 1/2 we'd agreed, and when eventually by whinging to his boss we gave him 7, he then asked for baksheesh! Incredible! I shudder to think how these kids are going to grow up – at least the adults have some sense of honour.
Before we left for Karnak, by the way, we said goodbye to Mamdoh at the hotel, gave him a hug and made a present of my harmonica to remember me by. All quite emotional!
An uneventful trip of about 9 hours back to Cairo – grabbed a taxi to the Windsor Hotel, got our old room (#15) back, had a crappy dinner. The waiters here are hilarious – they're so desperate to do things properly but, like most things in Cairo, it's like a Twilight Zone version of the real thing – for example, slowly and painfully dishing over food with spoon and fork held in one hand. You're forced to have three courses which is pretty unbearable because the food isn't that great. It really is a strange throwback to English officers' club colonial history.
If only we could stay longer in Egypt – unfortunately though we've both run out of money and we're running on credit. I must admit exhaustion is setting in as well – I've now been eleven months from home. I am definitely coming back one day though.