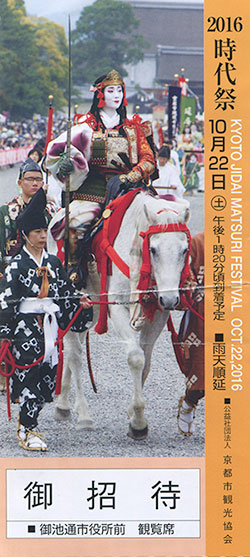 We checked out of our hotel this morning after a small sleep-in, grabbed a crap but cheerful breakfast from a cafe, and walked with our packs the 20 minutes or so to our last-night-in-Kyoto hotel, the Hearton. Carol had done some serious online work getting us this last night's accommodation so we could see the Jidai Matsui Festival – which happens to pass by just down the road. After we'd just left the hotel reception to start the day, when I badgered her to go back and get a merino top, she was also given tickets at for roadside seating by the hotel!
The two middle-aged women who let us sit in front seats didn't check these tickets however; and we ended up sitting for almost an hour right next to traffic protected only by a cloth barrier – and then got kicked out by the holders of our premium seats, forcing us to move down and across the road and to a second-row, less prestigious position.
But still, because of that error we did snag the high-quality programmes, which described every costume and character in the parade. The Jidai Matsui goes back in time from the 19th century to about the 8th, with period-accurate costumes throughout. It's one of the major Kyoto festivals of the year.
The costumes were certainly gorgeous, but we were amused by the very stately pace, virtual silence and incredibly polite nature of the proceedings. The crowd lining the street was pretty much entirely quiet (apart from a murmur when a police car whizzed by), and apart from three or four bands and performers, so were the marchers. Which gave everything a strangely subdued air during the more than two hours it took to go by. It was definitely worth seeing, but perhaps it needs a little more livening up!
We had seriously considered going to the Kurama Fire Festival in the evening, but in the end decided we didn't want to spend our last night waiting in queues, being crammed in trains and herded around (the festival takes place in a small village to the north, and the crowds are apparently ridiculous and you don't get to see much). So instead we walked around downtown Kyoto and took it easy, visiting the narrow Nishiki food market street, packed with people, walking down Pontocho again taking arty B&W photos, and even dropping in to see a Kyoto games store!
In Gion we stopped at a small place and had a couple of drinks at a counter facing the street and chatted to the friendly waiter, who had been to Melbourne and cycled the Great Ocean Way. Then, after strolling along and browsing a few stores (Carol bought some more printed cottons), we found a fantastic little noodle place packed with locals in a side street and had a delicious dinner.
The back streets of downtown Kyoto are endlessly interesting, crammed with stores and restaurants and strolling people, and everything is on a grid pattern so it's easy to keep your bearings.
We made it back to the hotel and checked in. I've got a stiff neck, a sore foot and a dodgy knee, but we've been walking some serious kilometres. We leave Kyoto tomorrow for Koya-san which is exciting, but Kyoto has really grown on us in the short time we've been here.