We were determined to get seats in the green car for our shinkansen back to Tokyo, so the first thing we did today was get a train back to the JR Nara station and book them for tomorrow. Then we grabbed a coffee and a bun for breakfast, bought bus day passes (a wooden ticket on a strap) for 500 yen each, and caught a bus to Nara Park, where most of the temples are – and a lot of roaming, protected deer.
We got off just after the Nara Museum – where people were already queuing the length of the building to get in – and walked to the Nandai-mon, an impressive old gate inside which two huge wooden 13th century statues stand guard. Unfortunately they were behind protective meshes, but they were still the largest and most impressive statues I've seen in Japan.
Beyond this, we walked around another gate, paid our entrance fee, and got our first view of the Daibutsu Hall of the Todai-ji temple. It's the largest wooden building in the world, and incredibly, it's a 1709 rebuild of the original and at only two-thirds of the original's size. Definitely one of those jaw-dropping sights that travelling is all about.
There was more to come. Inside was the Daibatsu (Great Buddha), an awe-inspiring bronze flanked by two smaller gold Buddhas. One of the largest bronze figures in the world in fact. A fitting climax to three weeks of temples. Around the back of the Buddhas there was a thick column with a crowd of people clustered around it, many waiting for a turn to squeeze themselves through a hole in the column at floor level. Apparently this means you'll reach enlightenment in your lifetime, or somesuch. If only it was so easy!
The sun was out and it was a perfect day for wandering the park, feeding the tame deer with deer biscuits (150 yen a packet), and poking in and out of various other shrines along woodland paths. For lunch we had udon noodles in a little place in a shady patch of forest. The whole park was busy with tourists and locals, but it didn't feel crowded.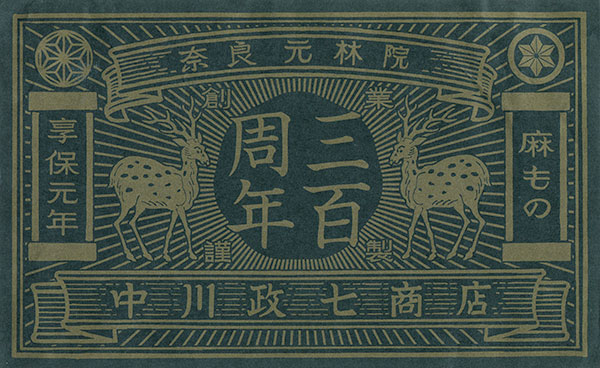 Not so at Nara Museum, where we waited about ten minutes to get in; but it was worth it to see a special exhibition held each autumn for which a selection of items from the Shoso-in Hall, where the Todaj-ji treasures are kept, are chosen and put on display.
The items dated from the 8th century and included offerings, bits of banners, coins, pottery, combs, a belt, census records, bells… a fascinating and eclectic collection.
Back outside we wandered back towards town, stopping to have a drink outside at a food fair, and ended up at Kintetsu Nara station, where we explored the arcades. We both bought some things from a shop featuring lots of things with deer on them – I got a glasses case and Carol bought me a notebook.
After a while the sun had gone down and it was getting cold, so we found a place to eat (which turned out to be pretty average – I also accidentally ordered two glasses of beer, one small and one huge). Then we got some stuff from a supermarket (I bought a small bottle of Yamazaki whiskey) and caught a bus back along the very busy main street to our little flat on the outskirts of Nara.