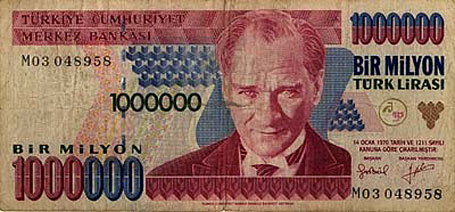 I'm writing from Istanbul airport, where I'm relieved to see that security seems to be tight – all luggage is being x-rayed before entrance to the terminal, and there are security guards with dogs wandering around. I'm about three hours early for my flight.
I picked up my rug from the Grand Bazaar this morning and sat by the main gate with a tea to soak in my last taste of Istanbul, but I'm tired and ready to settle for a little while. How much longer I'll stay in London however is still undecided. To add to all my other thoughts, Sydney seems a damn sight safer a place to live. Maybe I should go back and start setting up a life again. I've seen and done a lot the last year but nothing has really changed my direction.
Anyway, add Turkey to the list of countries I've visited. A fascinating place, but perhaps I wasn't in the best state for travelling. I'll come back again one day and see more. Allaha izmaladik!!
Istanbul airport, Turkey, 21st September 2001, 12.33pm